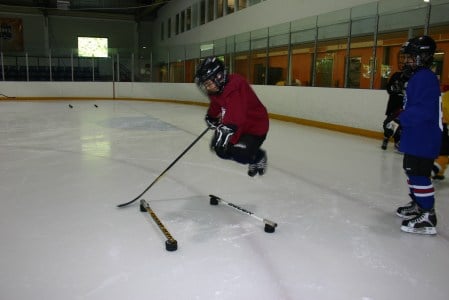 July Half Day Hockey Camp
Back by popular demand, we are very pleased to offer our July Half Day Summer Hockey Camp.
We provide a high Instructor to Camper ratio for a safer more personal experience.
PLAYERS ARE GROUPED WITH LIKE AGES AND SKILLS TO ENSURE THEY ARE COMFORTABLE AND GAIN CONFIDENCE IN THEIR ABILITIES.
There are two hours on ice:
The first session is focused on skating and individual skills such as puck control, passing, shooting.
The second session is split to teach game awareness skills and then provide opportunities for players to use and practice the skills they have learned in game like settings such as a scrimmage.
We also provide 2 hours of off-ice activities to allow players to get to know each other and get into shape in a fun way.
Front Line Hockey School provides a safe, supervised, and professional environment for all children. We have knowledgeable, dedicated instructors. There is an emphasis on fun, skill development and personal growth.
Dates:
July 10-14 (Monday – Friday)
Times:
9:00am – 1:00pm
Details:
On-ice 2 hours each day.
Off-ice 2 hours each day.
30 minutes change and snack
Location:
Vic Johnston Arena, Streetsville
Price:
Players – $350.00 plus HST
Goalies (max 4) – $150.00 plus HST
We are happy to offer our 10% Early Bird (to April 15), Sibling and Multi-Camp Discounts – please be sure to ask. Discounts cannot be combined. 
The goal of our camps is to build confidence in players so that they will want to learn. If they want to learn they will improve and if they improve and build confidence their love of the game will grow!
The summer camps provide a balance between on-ice hockey specific skills and off-ice fun and exercise. This is a great off-season camp for players wanting to improve their skills and enhance their love of the game.
Registration
NOTE – by sending the form and payment you consent to the Waiver Conditions below.
Please click add to cart and then complete checkout once for each player.
$150.00 – $350.00Select options
Waiver
The participant agrees that Front Line Hockey School Inc and its owner and instructors will not be held responsible for any accidents or loss, however caused and agrees to release the owner and instructors from any claims or damage which may arise as a result of the student's accidents or loss. In the event we are unable to contact you, you give permission to seek medical assistance to your child if necessary while your child is attending Front Line Hockey School Inc. Liability insurance must be carried by the participant. Front Line Hockey School owner and instructors cannot be held responsible. By clicking YES and submitting this form, I, the Parent / Guardian, certify I have read the conditions above and agree to participate having read them.
Methods of Payment
Once you have submitted the registration form, you will receive a confirmation email with payment instructions.
Contact us at: flhockeyschool@gmail.com.
Cancellation Policy
Full refund if cancelled via email and acknowledged via email by 6 weeks prior to start of camp.
NO REFUNDS / CREDITS after that date.
We look forward to seeing you at camp!