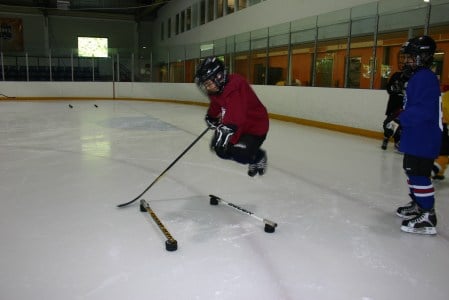 July Half Day Summer Hockey Camp
This camp has sold out! Please check out our other camps coming up.
Back by popular demand, we are very pleased to offer our July Half Day – Summer Camp.
We provide a high Instructor to Camper ratio for a safer more personal experience.
PLAYERS ARE GROUPED WITH LIKE AGES AND SKILLS TO ENSURE THEY ARE COMFORTABLE AND GAIN CONFIDENCE IN THEIR ABILITIES.
There are two hours on ice:
The first 1 hour session is focused on skating and individual skills such as puck control, passing, shooting.
The second 1 hour session is split to teach game awareness skills and then provide opportunities for players to use and practice the skills they have learned in game like settings such as a scrimmage.
We also provide 2 hours of off-ice activities to allow players to get to know each other and get into shape in a fun way.
Front Line Hockey School provides a safe, supervised, and professional environment for all children. We have knowledgeable, dedicated instructors. There is an emphasis on fun, skill development and personal growth.
Dates:
July 11th -15th (Monday – Friday)
Times:
9:00am – 1:00pm
Details:
On ice 9:00am – 11:00am, then off ice for 11:00 – 1:00pm
30 minutes change and snack
Location:
Vic Johnston Arena, Streetsville
Price:
Players – $325.00 plus HST = $367.25
Goalies (max 4) – $150.00 plus HST = $169.76
Book your spot and complete your registration for the summer camps by April 15th and receive our 10% Early Bird Discount.
We also are happy to offer our 10% " Sibling" and "Multi-Camp" discount for Players.
Please note that discounts cannot be combined. Please ask for details.
The goal of our camps is to build confidence in players so that they will want to learn. If they want to learn they will improve and if they improve and build confidence their love of the game will grow!
The summer camps provide a balance between on-ice hockey specific skills and off-ice fun and exercise. This is a great off-season camp for players wanting to improve their skills and enhance their love of the game.