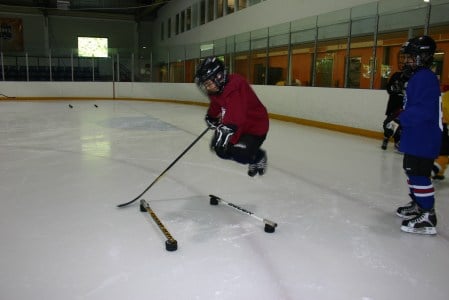 July Half Day -Summer Camp
Back by popular demand, we are very pleased to offer our July Half Day – Summer Camp.
We provide the same high Instructor to Camper ratio for a safer more personal experience.
PLAYERS ARE GROUPED WITH LIKE AGES AND SKILLS TO ENSURE THEY ARE COMFORTABLE AND GAIN CONFIDENCE IN THEIR ABILITIES.
Front Line Hockey School provides a safe, supervised, and professional environment for your child. We have knowledgeable, dedicated instructors. There is an emphasis on skill development and personal growth.
The camps provide a balance between on-ice hockey specific skills and off-ice fun and exercise. This is a great off season camp for players wanting to improve their skills and enhance their love of the game.
Dates:
July 13 – 17
Time:
9:00 AM – 12:30 PM
Schedule:
| | |
| --- | --- |
| 8:30 AM – 9:00 AM | Arrive and dress |
| 9:00 AM – 10:30 AM | On Ice |
| 10:30 AM – 10:50 AM | Change / Snack |
| 11:00 AM – 12:30 PM | Off Ice |
| 12:30 PM | Pick-up |
Location:
Vic Johnston Arena, Streetsville
Price:
Players – $240.00 plus HST = $271.20
Goalies – $150.00 plus HST = $169.50
NOTE: We offer our 10% "Early Bird" discount for registrations before  March 15th, 2020 for Players.
We also are happy to offer our 10% " sibling discount" for Players.
Please note that discounts cannot be combined.  Please ask for details.  
Details
(Drop off after 8am and pick up before 12:45pm)
Includes on-ice focused drills and scrimmage games,  Off-ice includes exercise and games along with our famous Bob Boyes Invitational end of week road Hockey tournament
Players are divided into similar ages and skills for maximum enjoyment
Registration
NOTE – by sending the form and payment you consent to the Waiver Conditions below.
Please click add to cart and then complete checkout once for each player.
$150.00 – $216.00Select options
Waiver
The Participant and parents acknowledge and agree that the Front Line Hockey School or any of the principals, officers, employees, agents directors or instructors will NOT be held responsible for any accident damage, injury or loss, however caused, negligent or otherwise, at any time and expressly releases any and all the aforementioned parties from all claims arising from any accident, damage, injury or loss or as a consequence thereof. Also, parents / guardians hereby authorize the Front Line Hockey School staff to seek any emergency medical treatment it deems necessary for their son, daughter or legal dependent. Parents / guardians authorize the use of any photos taken at the Front Line Hockey School program for promotional purposes.
By clicking YES and submitting this form, I, the Parent / Guardian, certify I have read the conditions above and agree to participate having read them.
Methods of Payment
Once you have submitted the registration form, mail cheque to:
Front Line Hockey School Inc.
5896 Tayside Cres.
Mississauga, ON L5M 5J8
Or e-transfer: flhockeyschool@gmail.com.
Please confirm your password with us before etransferring.
Cancellation Policy
Full refund if cancelled via email and acknowledged via email by June 15, 2020.
NO REFUNDS / CREDITS after that date.
We look forward to seeing you at camp!