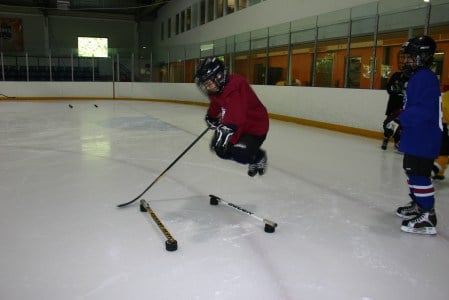 December Hockey Camp
December Winter Hockey Camp
We offer four 1 1/2 hour sessions. Experience has shown that anything beyond 1 1/2 hours is time players lose their focus and ability to learn effectively.
This is a great camp to help players prepare for the second half of the season including play-offs. Help your child excel into the second half and enjoy the game even more.
INDIVIDUAL SKILLS
Each session focuses on skating skills, edge control, power, speed, puck control, shooting and passing.
GAME SKILLS
We believe that as a player develops their individual skills they need to practice those skills within the framework of a game. Each session includes game situational drills.
Registration
Coming soon.

Waiver
The Participant and parents acknowledge and agree that the Front Line Hockey School or any of the principals, officers, employees, agents directors or instructors will NOT be held responsible for any accident damage, injury or loss, however caused, negligent or otherwise, at any time and expressly releases any and all the aforementioned parties from all claims arising from any accident, damage, injury or loss or as a consequence thereof. Also, parents / guardians hereby authorize the Front Line Hockey School staff to seek any emergency medical treatment it deems necessary for their son, daughter or legal dependent. Parents / guardians authorize the use of any photos taken at the Front Line Hockey School program for promotional purposes.
By clicking YES and submitting this form, I, the Parent / Guardian, certify I have read the conditions above and agree to participate having read them.
Methods of Payment
Once you have submitted the registration form, mail cheque to:
Front Line Hockey School Inc.
5896 Tayside Cres.
Mississauga, ON L5M 5J8
Or e-transfer: flhockeyschool@gmail.com.
Please confirm your password with us before etransferring.
Cancellation Policy
Full refund if cancelled via email and acknowledged via email by Nov 15, 2020.
NO REFUNDS / CREDITS after that date.
We look forward to seeing you at camp!