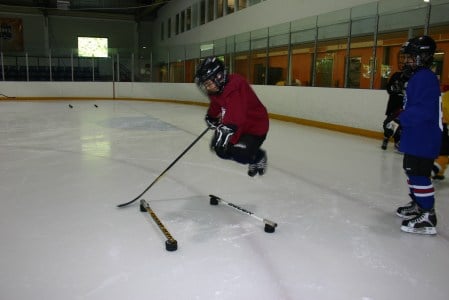 Fall Pre-Season Evening Hockey Camp
6 x 90 minute sessions = NINE HOURS
This is a great camp for players looking to prepare for their upcoming evaluations and season.
Having coached for many years in the MHL and GTHL at the House League, rep., "A" and "AA" levels, I have a unique understanding of what coaches are looking for and of how to prepare players.
This camp is ideal for "House League" and rep players looking to advance to a higher level of hockey and/or ensure they are prepared for their upcoming season.
We will be limiting the number of campers in order to ensure each player gets proper instruction, so please register early.
7 Reasons to Attend
9 hours of intensified training vs the average camp of 4-8 hours
6 x 90 minute sessions provide better training opportunity vs average camp of 60 minutes
Experienced coaches and trainers
Ability to ask a coach out to watch and speak with our instructors
High staff to player ratio
10% EARLY BIRD DISCOUNT – if registration is completed by May 15th.

 

10% "SIBLING" and "MULTI-CAMP" DISCOUNTS (please note that discounts cannot be combined).
Dates:
Week 1 – September 5, 6, 7 (Tuesday-Thursday)
Week 2 – September 12, 13, 14 (Tuesday-Thursday)
Times:
Ages 5-9: 6PM – 7:30 PM
Ages 10-14: 7:30PM – 9PM
Location:
Vic Johnston Arena
Price:
Players: $330.00 plus HST
Goalies: FREE (Max 4)
Book your spot and complete your registration  by May 15th and receive our 10% Early Bird Discount.
We also are happy to offer our 10% "Sibling" and "Multi-Camp" discount for Players.
Please note that discounts cannot be combined.  Please ask for details.
Registration
NOTE – by sending the form and payment you consent to the Waiver Conditions below.
Please click add to cart and then complete checkout once for each player.

$1.00 – $297.00Select options
Waiver
The participant agrees that Front Line Hockey School Inc and its owner and instructors will not be held responsible for any accidents or loss, however caused and agrees to release the owner and instructors from any claims or damage which may arise as a result of the student's accidents or loss. In the event we are unable to contact you, you give permission to seek medical assistance to your child if necessary while your child is attending Front Line Hockey School Inc. Liability insurance must be carried by the participant. Front Line Hockey School owner and instructors cannot be held responsible. By clicking YES and submitting this form, I, the Parent / Guardian, certify I have read the conditions above and agree to participate having read them.
Methods of Payment
Once you have submitted the registration form, you will receive a confirmation email with payment instructions.
Contact us at: flhockeyschool@gmail.com.
Cancellation Policy
Full refund if cancelled via email and acknowledged via email by 6 weeks prior to start of camp.
NO REFUNDS / CREDITS after that date.
We look forward to seeing you at camp!